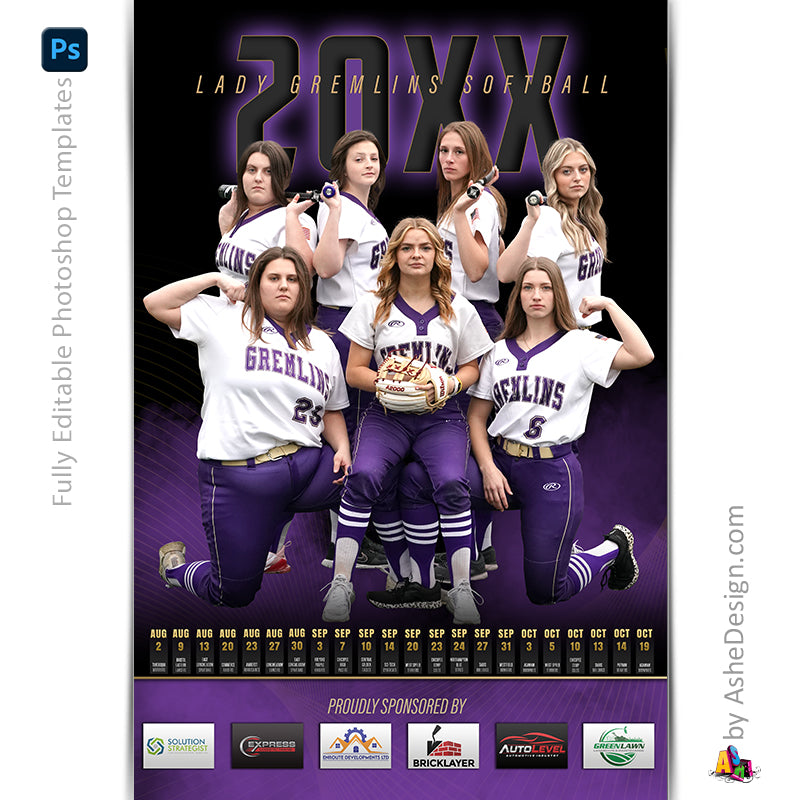 Sports Team Schedule Sponsor Poster Portrait - Multi-Sport Template For Photoshop - The GOAT
Purchase product individually or get unlimited access to the entire Ashe Design store with an All Access Membership below. No additional fee per product.



Automatically renews every month on date of purchase for $19.99. Cancel at anytime.

Automatically renews every 3 months on date of purchase for $80. Cancel at anytime.

Automatically renews every year on date of purchase for $199. Cancel at anytime.
USE FOR ANY SPORT! Show appreciation to your valued sponsors with our fully editable team sponsor poster template for Photoshop. This 12x18 design is the perfect canvas to showcase your team's spirit, acknowledge the support of your sponsors, and keep your fans informed about the upcoming game schedule.
🏆 Celebrate Your Team: This template offers ample space to feature your team's highlights - from action shots to group photos, creating a visual celebration of your achievements.
📅 Game Schedule at a Glance: Keep your fans in the know with a prominent section dedicated to your team's game schedule. Ensure everyone knows when and where to catch your games.
💼 Spotlight Your Sponsors: At the bottom of the poster, you'll find dedicated spaces to prominently display your sponsor logos. Show gratitude for their support while giving them valuable exposure.
🎨 Total Creative Control: Customize the template with ease using Photoshop. Adjust colors, fonts, and layout to perfectly match your team's branding and style.
📷 Easy Photo Integration: Insert images effortlessly, ensuring your poster reflects the team's camaraderie and success.
🌟 Make a Lasting Impression: Whether it's for an end-of-season celebration, fundraising event, or a showcase for potential sponsors, this poster is designed to make a lasting impression.
📢 Engage Your Audience: Hang these posters in your team's home field, locker rooms, or local businesses to engage your community and attract new sponsors.
Download Links Include
(1) 12x18 layered Photoshop template
Formatted for printing at any print lab
Software Requirements
Adobe Photoshop needed to edit our Photoshop templates
Compatible with Photoshop; Photoshop Elements
Compatible with Mac & PC (NOT mobile devices)
How To Use
To change the color of the background smoke, watch this video HERE
To change the colors on the text layer, watch this video HERE
*Elements Users will need to install the Ungroup Action included in the download to use this template.
Acumin Variable Concept (Adobe Font)

American Captain (Free Font)

Steelfish (Free Font)

Anton(Free Font)
Photography Credit
---
More from this collection